Home page Description:
Competition teaches presenters and audience how to craft a great pitch about their research.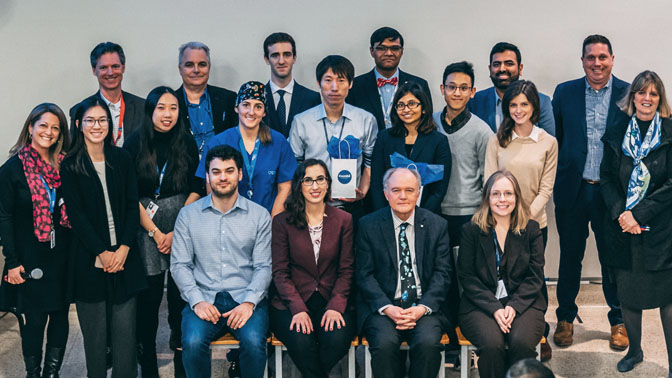 On April 9, Krembil held its second Pitch Perfect Competition. The event was organized to help teach the Institute's members how to quickly describe their research to a listener with little to no scientific knowledge. 
"It's increasingly important for researchers to be able to share their research—in an interesting and understandable way—with the general public. This will help them raise public awareness of their work and to attract philanthropic funds to support it," says Dr. Donald Weaver, Krembil's Director. 
As part of the competition, 13 participants, either a Krembil trainee or staff member, presented a three-minute elevator pitch describing a recent or upcoming research project to a panel of judges from UHN Public Affairs and the audience. After each pitch, the judges provided the presenter with constructive feedback and strategies to better capture a listener's attention and interest. 
At the end of the competition, the judges selected the three participants who presented the best pitches:
1. Dr. Akihiro Nakamura, a postdoctoral fellow in Dr. Nigil Haroon's lab
2. Imindu Liyanage, an analyst in Dr. Donald Weaver's lab
3. Zoya Qaiyum, a technician in Dr. Robert Inman's lab
"All presenters did an excellent job. I was very impressed by their enthusiasm and their use of props and humour to engage the audience," says Heather Sherman, Senior Public Affairs Advisor at Krembil.
Of particular note, the Krembil's Public Affairs team shared a short video with the audience highlighting features and examples of successful research pitches. The video stars Dr. Kevin Smith, President and CEO of the University Health Network, and includes cameos of several Krembil researchers and trainees. View the video
here
.
Krembil thanks all presenters, judges and organizers for their participation and help in making Pitch Perfect 2019 a success.