Home page Description:
Orthopaedic surgeon Dr. Raj Rampersaud is a 'changemaker' in health care.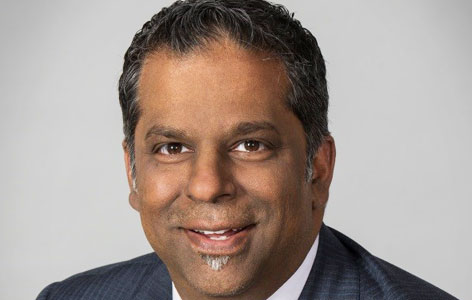 By: S. Amanda Ali, UHN Trainee and ORT Times Writer
Recently featured in the Toronto Star's 'Changemaker' series was UHN's very own Dr. Raj Rampersaud, orthopaedic surgeon at Toronto Western Hospital. News stories featuring the outstanding achievements of UHN's surgeons, researchers, and physicians are fairly common, but this article was remarkable, in part because of the in-depth nature of the series. Among Dr. Rampersaud's academic interests are minimally invasive spine surgery, surgical safety, health services outcomes, low back pain, and osteoarthritis. The Changemaker article discussed the success story of the Inter-professional Spine Assessment and Education Clinics (ISAEC), first launched in 2012 with 3 pilot centres aimed at providing faster, more tailored care for patients with back pain. Detailed information on these clinics can be found here: http://www.isaec.org/.
At ISAEC, patients are seen by specially trained physiotherapists and chiropractors who assign one of several treatment pathways, ranging from personalized self-management programs all the way to surgery. Dr. Rampersaud describes the driving factors behind the development of this clinical pathway to the Toronto Star in this video. He explains that by "getting the right patient to the right provider when they're needed," ISAEC is a model for personalized care that maximizes the use of health care resources and provides care to patients earlier in the disease trajectory (average wait time of only 12 days), when interventions can be most effective. After a successful 6-year pilot, Ontario is now implementing these clinics across the province, all as a result of Dr. Rampersaud's vision, leadership, and dedication.
As a UHN clinician investigator, Dr. Rampersaud's interest in improving musculoskeletal health is reflected in the diversity of his research, which includes basic science projects. Among his recent achievements is a publication with Dr. Mohit Kapoor, Dr. Akihiro Nakamura, and other collaborators in Annals of the Rheumatic Diseases, exploring the role of microRNA inhibitors for the treatment of facet joint (spine) and knee osteoarthritis. A previous publication reported that increased levels of microRNA-181a-5p can be detrimental for osteoarthritis. This recent publication is the first evidence showing that inhibition of microRNA-181a-5p can be beneficial for osteoarthritis. This work was recently featured by Nature Reviews Rheumatology, demonstrating its high impact in the field.