Home page Description:
Krembil Research Institute Director Dr. Donald Weaver reflects on a year of grand achievements.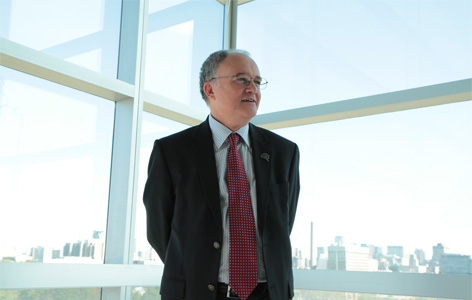 As we enter 2017, I wish to reflect on the many accomplishments achieved by the Krembil Research Institute's faculty, students and staff in the past year. 
In 2016 we held the one-year anniversary celebration of our rebranding as "the Krembil". We also unveiled the first of three program integrations, with the creation of the Donald K. Johnson Eye Institute. This new institute was born from the merging of UHN's Ophthalmology Department (previously known as the Donald K. Johnson Eye Centre) and the Division of Vision Sciences. At the unveiling, Dr. Peter Pisters, UHN President and CEO, summarized the benefits of this merger: "This transformation will facilitate improved collaboration between clinicians, researchers and educators, with the ultimate goal of improving patient care."  
A highlight of the past year was also our continued research excellence. These accomplishments include the following discoveries: a new therapeutic strategy to reduce brain inflammation after stroke (
story link
); two biological markers that can distinguish between early- and late-stage osteoarthritis (
story link
); and new insight into how transplanted stem cells behave after they are injected into the retina with the aim to restore vision loss (
story link
).  
These research advancements are no small feat; they require collaboration within and across research centres and the hard work and dedication of our administrative staff and many trainees. Going forward, the Krembil will continue to enrich our research community and promote trainee engagement through our Annual Research Day, Trainee Affairs Committee events and internal trainee funding competitions. We will also continue our small equipment competition and will endeavour to secure larger infrastructure and project grants that will benefit the entire Institute.  
Most importantly, we will continue our relentless pursuit of new diagnostics, therapeutics and management strategies for chronic debilitating disorders of the brain and spine, bone and joints, and eye. Because if we're not here to find cures, then why the hell are we here?  
Yours,
Don Weaver