Home page Description:
Explore over 90 years of research firsts at UHN through an interactive timeline.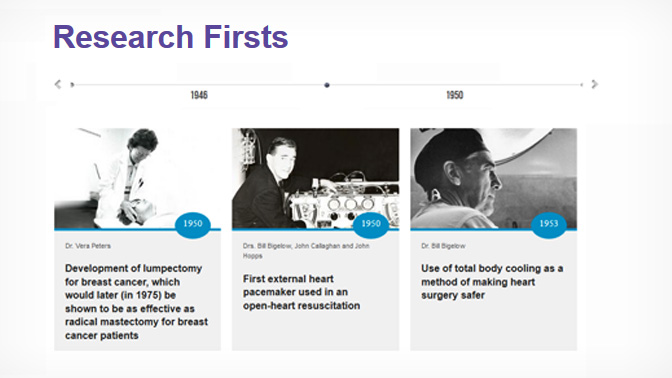 Announced on Mar 13, 2017
It starts during the summer of 1922.
At the Toronto General Hospital, Drs. Frederick Banting and Charles Best treated their first patient with diabetes—the first in the world—using insulin.  
As Canada's largest research hospital, University Health Network (UHN) is a national and international source for discovery, education and patient care. This excellence is built on a long legacy of innovation—one that spans almost a century.  
This history includes pioneers like Dr. Vera Peters—who developed lumpectomy for breast cancer and showed that it was as effective as radical mastectomy—and Drs. Ernest McCulloch and James Till, who were the first to discover blood-forming stem cells.  
Over 30 of the top 'Research Firsts' at UHN have been compiled within an interactive timeline to highlight these local firsts that have had global impact.  
Click here
to explore the timeline.  
UHN spans four downtown Toronto hospitals (The Toronto General, Toronto Western, Princess Margaret and Toronto Rehab) as well as five associated research institutes. The scope of research and complexity of cases at UHN have made it a world leader in the development and implementation of innovative approaches to improve patient care.