Home page Description:
Krembil Senior Scientists Dr. Lozano and Dr. McAndrews are honoured for research excellence.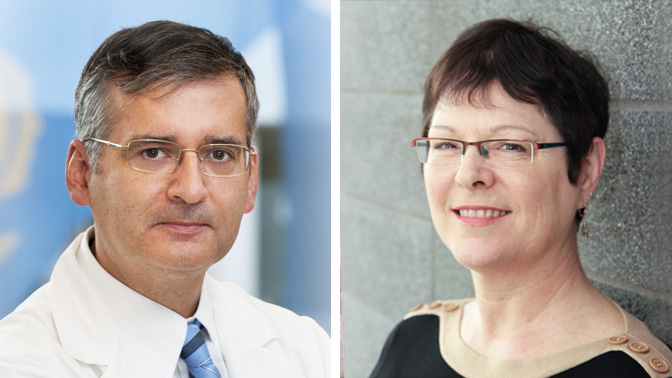 Announced on Dec 15, 2017
Two of Krembil's leading researchers received prestigious awards for their research excellence in neurological disorders.
Dr. Andres Lozano (Krembil Senior Scientist) adds to his long last of accolades with the Bachmann-Strauss Prize for Excellence in Dystonia Research from the Michael J. Fox Foundation for Parkinson's Research. Dr. Lozano is a recognized pioneer in the use of deep brain stimulation, a technique in which the brain is stimulated electrically in specific regions. He received this award for his evaluation of the technique for dystonia, a movement disorder that is characterized by painful, prolonged muscle contractions that result in abnormal movements and postures. Dr. Lozano discusses his work in this video.
Dr. Mary Pat McAndrews (Krembil Senior Scientist) received the 2017 Excellence in Research Award from the Canadian League Against Epilepsy. She was recognized for her pioneering research using sophisticated imaging technologies to understand how brain networks process memory and language in people undergoing surgery for epilepsy. With more than two decades of impactful contributions to the field, her epilepsy research program aims to identify factors that can be used to individualize the best therapeutic strategies and outcomes.
Congratulations to Drs. Lozano and McAndrews for receiving these highly respected awards.