Home page Description:
Dr. John Dick receives innovation award for his pioneering work in leukemia stem cells.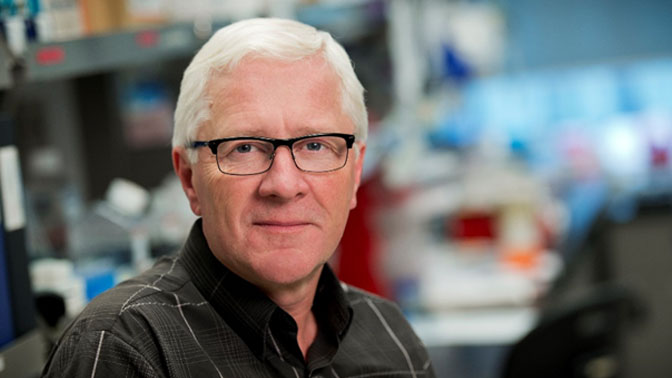 Announced on Feb 27, 2019
PM Senior Scientist Dr. John Dick was named the 2019 recipient of the International Society for Stem Cell Research (ISSCR) Award for Innovation. The award recognizes individuals who have made original and transformative discoveries in the field of stem cell research, and whose work has offered new insights for studying and treating human disease.
Dr. Dick was acknowledged for his breakthrough discovery of leukemia stem cells (LSCs) in acute myeloid leukemia—a type of cancer that arises in the bone marrow and the blood. LSCs are a rare population of tumour cells that initiate the cancer and also play a role in treatment failure and disease recurrence.
LSCs were the first type of cancer stem cells to be characterized. This foundational work, which was carried out in the laboratory of Dr. Dick, paved the way for the identification of cancer stem cells in other solid human tumours. Dr. Dick's isolation of LSCs also set the stage for the eventual development of cancer stem cell-targeted therapies, illustrating the far-reaching translational impact and clinical implications of his work.
The society will recognize Dr. Dick's achievements at their annual meeting in June.