Home page Description:
Six UHN scientists are named Highly Cited Researchers by Clarivate Analytics.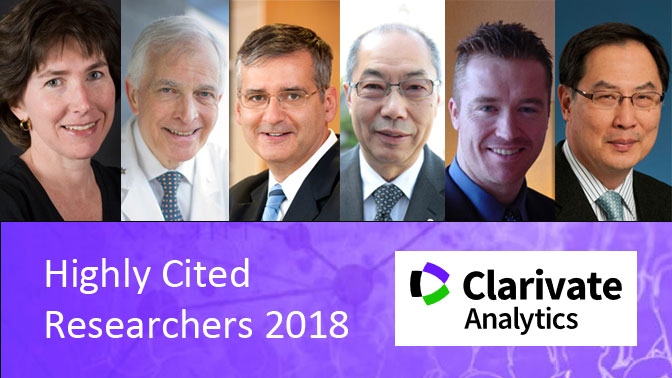 Announced on Dec 3, 2018
Six University Health Network (UHN) researchers have been named Highly Cited Researchers 2018 by Clarivate Analytics.
The list, which was introduced in 2014, identifies scientists and social scientists who have demonstrated significant influence in their fields. To be included, researchers had to have published multiple exceptional papers that rank in the top 1% by citations for their field and publication year between 2006 and 2016.
The elite researchers from UHN who were included among the 6,078 scientists worldwide are as follows:
For the first time, the list this year also includes a new Cross-Field category to identify researchers with substantial influence across several fields. Approximately one third of the Highly Cited Researchers belong to this category, demonstrating significant influence across more than one discipline.
Canada placed seventh in the world for the number of Highly Cited Researchers, with 166 scientists across all research fields based at Canadian institutions—representing 2.7% of the worldwide total. Of these individuals, 33 are from Toronto.
The full list, as well as a detailed explanation of the analysis methodology, is available here.
Congratulations to UHN's Highly Cited Researchers for their exceptional research performance and influence.