Home page Description:
Krembil's Drug Discovery in Neuroscience Conference has been canceled.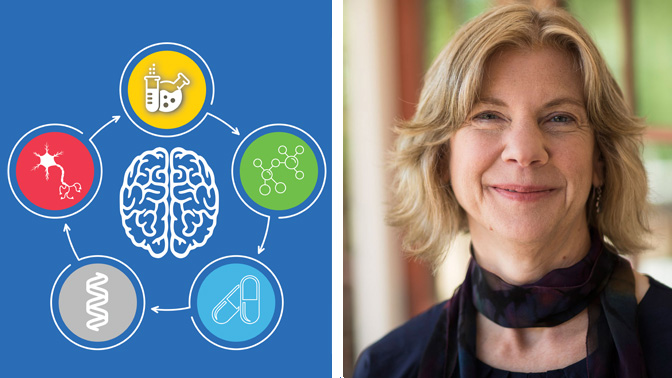 Please be advised that the Drug Discovery in Neuroscience Conference scheduled for April 1, 2020 (and described below) is cancelled until further notice.
We apologize for any inconvenience this may have caused. 
Sincerely,
Krembil Administration
On April 1, 2020, Krembil will host its first Drug Discovery in Neuroscience Conference at the Krembil Discovery Tower. All are welcomed and encouraged to attend. Registration is required (here).
This daylong event aims to educate participants about the process of turning research discoveries into druggable targets for small molecule therapeutic development. It will include a panel discussion titled 'Is Your Target Druggable?' and presentations about the following topics:
- Neuroscience Drug Discovery in Academia
- Pharmacokinetics in Drug Design
- Intellectual Property and Commercialization
- Artificial Intelligence and Drug Design
Dr. Barbara Tate, a neuroscientist and internationally renowned drug hunter, will provide a keynote address. Dr. Tate has held numerous leadership positions in small and large pharmaceutical companies, including Rodin Therapeutics, Satori Pharmaceuticals and Pfizer. She is currently a Venture Partner at the Dementia Discovery Fund, the world's largest venture fund focused solely on discovering and developing novel therapies for dementia, including Alzheimer disease.
All attendees are asked to register here. The deadline for registration is 4 pm on Thursday, March 19, 2020.
We look forward to seeing you there!
Conference Details
Date: Wednesday, April 1, 2020
Time: 8:00 am – 5:00 pm
Location: BMO Education and Conference Centre, Krembil Discovery Tower