Home page Description:
Drs. T. Mak and M. Davis receive the 2021 Szent-Györgyi Prize for Progress in Cancer Research.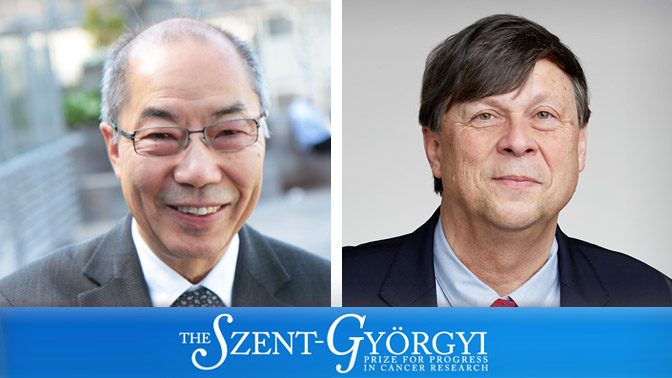 Princess Margaret Cancer Centre's Dr. Tak Mak and Stanford University's Dr. Mark Davis  have been awarded the 2021 Szent-Györgyi Prize for Progress in Cancer Research. Drs. Mak and Davis received the award for their discovery of the structure of the T-cell receptor (TCR) and their research into the underlying mechanisms of T-cell function and development. 
Their discoveries have laid the foundation for a novel T-cell-based immunotherapy approach, known as CAR (chimeric antigen receptor) T-cell therapy, which has been approved for the treatment of several types of blood cancer.
The award, presented by the National Foundation for Cancer Research (NFCR), honours scientists who have made discoveries that have led to advances in cancer prevention, diagnosis or treatment. The prize was established in 2006 in honor of NFCR's cofounder, Dr. Albert Szent-Györgyi, who received the 1937 Nobel Prize in Physiology or Medicine.
"We would like to see more and continued support to basic cancer research that is the true driving force for the development of novel cancer therapies," stated Sujuan Ba, Ph.D., co-chair of the 2021 Prize selection committee and president and CEO of NFCR. "What Mak and Davis have achieved is an outstanding example of how the discoveries made from basic cancer research can lay a solid foundation for the further development of life-saving clinical applications."
This pioneering research was set in motion by Dr. Mak in 1984, who successfully cloned the human TCR β gene, and at the same time by Dr. Davis, who cloned the murine TCR gene. Based on these and other complementary discoveries in T-cell biology, scientists were able to finally engineer T-cells that recognize and destroy cancer.
Drs. Mak and Davis will be presented the award in Washington D.C. at a ceremony that is tentatively scheduled in October 2021, depending on the status of the COVID-19 pandemic.
Congratulations to Drs. Mak and Davis for this prestigious honour and for their life-changing contributions to cancer research and our understanding of the immune system.
Source: NFCR press release.