Home page Description:
Dr. Rottapel receives funding to bring a new, potentially life-saving therapy to the clinic.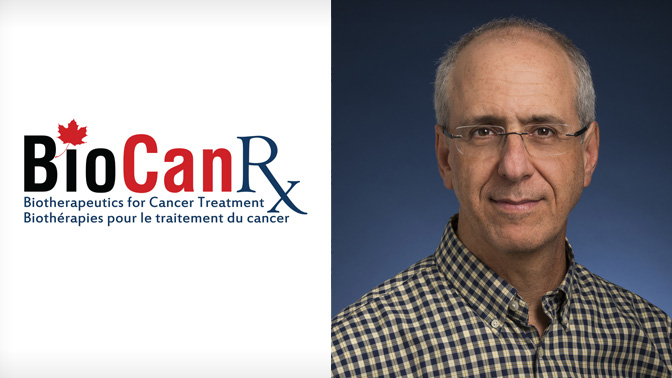 Announced on Aug 3, 2017
BioCanRx and its partners today announced $2,832,397 in funding for two collaborative research projects including a clinical trial aiming to treat blood cancers (ie, hematologic cancers) that would otherwise be fatal. 
 
One of the two funded projects will be led by UHN's PM Cancer Centre Senior Scientist Dr. Robert Rottapel, while the other will be led by Drs. Denis Claude Roy and Claude Perreault from the Hôpital Maisonneuve-Rosemont. Each will lead national research teams comprised of researchers, clinicians and trainees working together to find improved treatment options and outcomes for cancer patients with the following goals:
Dr. Rottapel's project aims to develop a therapeutic treatment that will block one of the signaling pathways that supports ovarian cancer growth. For more details about the project, click here.
Drs. Roy and Perreault's project aims to improve the safety, effectiveness and reach of therapeutics that rely on patient's immune systems (ie, immunotherapeutics) in the treatment of hematologic cancers. For more details about the project, click here.  
Funding partners for these projects include: Centre intégré universitaire de santé et de services sociaux de l'Est-de-l'Île-de-Montréal – Hôpital Maisonneuve-Rosemont;  AmorChem – SpecifiT; Centre of Excellence for Cellular Therapy – Hôpital Maisonneuve-Rosemont; Centre for Commercialization of Cancer Immunotherapy (C3i); CellCAN; Northern Biologics; Ontario Institute for Cancer Research; and Princess Margaret Cancer Centre – University Health Network.
To learn more about BioCanRx's research funding portfolio, click here.