Home page Description:
This conference showcased the progress made in treating acute myeloid leukemia.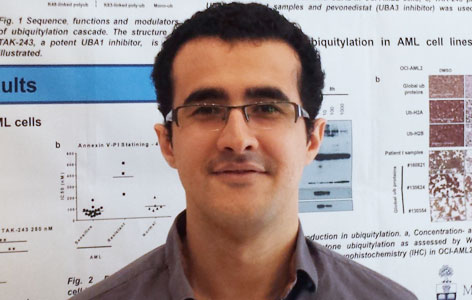 Conference: 59th American Society of Hematology (ASH) Annual Meeting and Exposition, December 8-12, Atlanta, Georgia, United States.
Conference Highlight: As the world's premier event in hematology, the 59th ASH meeting featured diverse, groundbreaking advances including novel therapies for acute myeloid leukemia.
Conference Summary: With more than 3,000 abstracts, diverse scientific symposia and educational sessions, this year the ASH meeting witnessed exciting developments, particularly within the area of blood cancer therapy. In this respect, tens of studies presented their findings on investigational and approved agents. As one of the most important themes, acute myeloid leukemia (AML), an aggressive malignancy of the blood, saw a giant leap forward in new drug approvals after 15 years of a 'drug approval drought'. The new approvals included: a combination chemotherapy, CPX-351; an antibody–drug conjugate, Gemtuzumab Ozogamicin; and two targeted therapies, Midostaurin and Enasidenib.
CPX-351 is an enhanced pharmaceutical formulation of Cytarabine and Daunorubicin, the current standard therapy in AML. Gemtuzumab Ozogamicin targets CD33 on the surface of AML cells to selectively deliver a conjugated cytotoxic drug to these cells. Midostaurin and Enasidenib selectively target mutant enzyme forms of FLT3 and IDH2, respectively, which are frequently seen in AML patients. These drugs were extensively discussed in various meeting sessions.
In addition to these advancements in AML therapy, more findings were reported on several 'third-generation anticancer therapies' that target non-mutant tumor-supporting machineries. A prominent example of this class was TAK-243, a drug targeted against the UBA1 enzyme that labels proteins with small tags to initiate their disposal by the cell. TAK-243 was featured in an oral presentation by researchers from Dr. Aaron Schimmer's laboratory at UHN and Takeda Oncology.
Equally exciting was the annual Canadian Hematology Society (CHS) Gala held concurrently with the ASH meeting in Atlanta, where CHS members from all across the nation met and received honours for achievements in hematology. In this Gala, Dr. Armand Keating, Dr. Jean Wang and Samir Barghout from UHN were among the award recipients. Thus, this ASH meeting was actually two meetings in one.