Home page Description:
Dr. John Dick receives prestigious award for contributions to cancer stem cell research.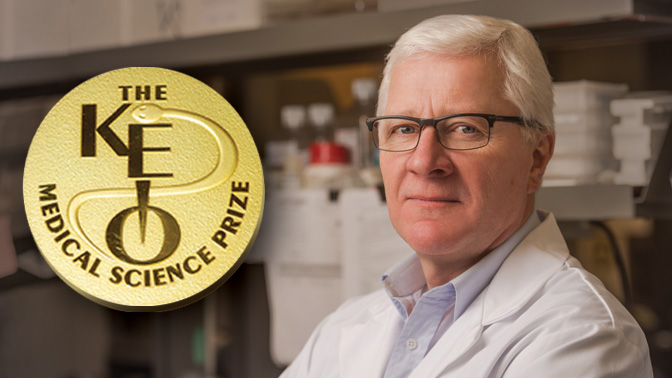 Announced on Sep 25, 2017
Last week, Japan's Keio University awarded its prestigious Keio Medical Science Prize to PM Cancer Centre Senior Scientist Dr. John Dick. The Keio Medical Science Prize recognizes outstanding achievements by researchers in the fields of medicine and life sciences. 
The award recognizes Dr. Dick's outstanding contributions to our understanding of cancer biology. Specifically, the award acknowledges him as the first researcher to isolate stem cells from human leukemia, and the first to provide proof that stem cells are present and active in this cancer. These findings have had global impact on the scientific community, and have revealed new strategies to target this cancer.
The award will be presented to Dr. Dick in November at a ceremony and commemorative lecture at Keio University School of Medicine in Tokyo. This year, two awards will be presented—the second Keio Medical Science Prize will be presented to Dr. Seiji Ogawa, a Research Professor at the Tohoku Fukushi University (Sendai, Japan), for his development of a new imaging technique capable of visualizing brain activity.
Dr. Dick, commenting on the award in a press release from Keio University, stated, "It is with gratitude that I accept the Keio Medical Science Prize. Science is not done in isolation and I have had the good fortune to be surrounded by wonderful colleagues in Toronto who set the highest standards for scientific thought that continuously challenged me to tackle biological challenges with rigour and clear thinking. All of our work on the biology of normal and leukemic human stem cells was the cumulative effort of many students and post-docs who contributed so much to the thinking and execution of the experimental findings. I dedicate this award to them."
Dr. John Dick is also an Investigator at the McEwen Centre for Regenerative Medicine, a Professor in the Department of Molecular Genetics at the University of Toronto, and he holds a Tier 1 Canada Research Chair in Stem Cell Biology.
Congratulations to Dr. Dick on this incredible achievement!