Home page Description:
Two prestigious awards honour Dr. Shepherd's contributions to oncology and cancer research.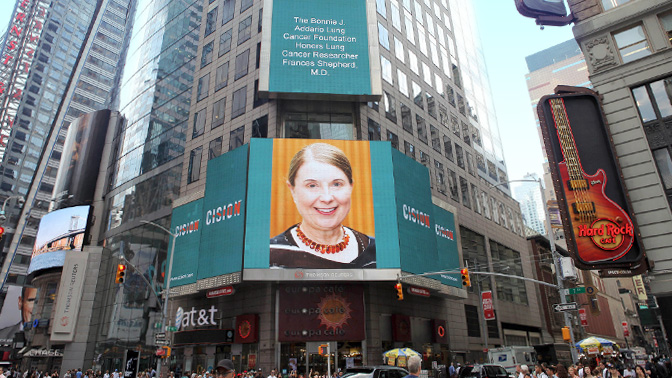 Announced on Aug 30, 2017
Dr. Frances Shepherd received two prestigious awards for her outstanding achievements as an oncologist and cancer researcher at PM Cancer Centre.
She received the 2017 Addario Lectureship Award on July 27, 2017 at the 18th International Lung Cancer Congress in Huntington Beach, California.
Over the past 9 years, the lectureship award has honoured one world-leading lung cancer oncologist. This year, Dr. Shepherd becomes the first female and first Canadian to receive the award.
"Through her leadership, she has brought together a brilliant team of researchers committed to treating lung cancer. Her team is one of the world leaders in bench to bedside research pertaining to lung cancer," said Bonnie J. Addario, 13-year lung cancer survivor and founder of the ALCF.
Dr. Shepherd's achievements are wide reaching: she has led clinical trials that have changed the standard of care around the world and demonstrated—for the first time—that targeted therapy can improve survival of lung cancer patients with no other treatment options.
The second honour received by Dr. Shepherd is the 2017 European Society for Medical Oncology (ESMO) Women for Oncology Award. It will be presented to her at the ESMO 2017 Congress in September in Madrid, Spain.
"Frances Shepherd has been a true role model, supporting and furthering the career of women in oncology, on top of making outstanding academic contributions in the field of lung cancer," said Christoph Zielinski on behalf of the ESMO Fellowship and Award Committee.
Congratulations Dr. Shepherd!