Home page Description:
Dr. Shaf Keshavjee receives national award for his innovation in lung transplant medicine.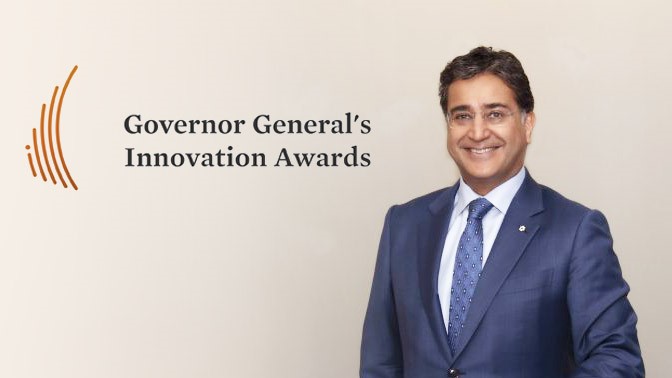 Dr. Shaf Keshavjee, Senior Scientist at TGHRI, Director of the Latner Thoracic Research Laboratories and Surgeon-in-Chief, Sprott Department of Surgery at UHN, has been recognized with a Governor General's Innovation Award for his invention of the Toronto Ex Vivo Lung Perfusion (EVLP) System. The prominent award recognizes individuals who have made transformative innovations that have a positive impact on the quality of life in Canada.
The EVLP system is designed to preserve donor lung function outside of the body by delivering a constant supply of oxygen and nutrients to the organ. By safely maintaining donor lungs in a fully functioning physiologic state outside of the human body, transplant surgeons can now assess, with much greater confidence, whether the donor lungs are suitable for life-saving transplantation.
This technology has been adopted worldwide, saving countless lives of individuals with end stage lung disease. EVLP helps to address the global shortage of donor lungs and critically reduce lung transplant wait times.
In addition to this award, Dr. Keshavjee has received numerous honours over his career, including a UHN Inventor of the Year Award for his work on developing the EVLP system and, in 2014, was named an Officer of the Order of Canada.
The Governor General's Innovation Award is in its fifth year and 30 prestigious awards have been bestowed to date. Dr. Keshavjee will receive the award at a ceremony hosted by the Governor General at Rideau Hall in Ottawa later this year. To see the 2020 award winners, click here.
Congratulations Dr. Keshavjee!