Home page Description:
Five research projects gain support from the Ontario COVID-19 Rapid Research Fund.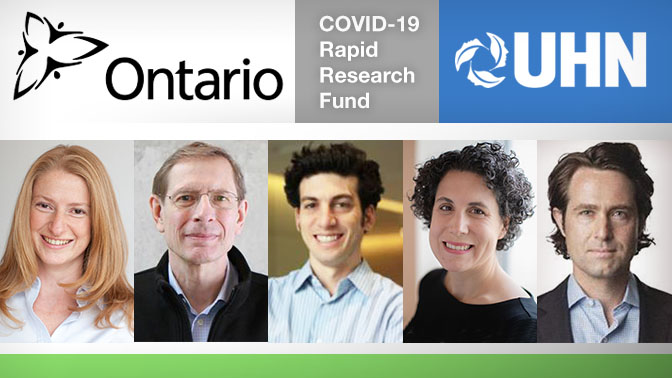 Five researchers at UHN—Drs. Beate Sander, Myron Cybulsky, Jordan Feld, Andrea Iaboni and Patrick Lawler—have been awarded funding from the Government of Ontario for COVID-19 research. The Ontario COVID-19 Rapid Research Fund was launched in April to generate rapid solutions to fight the disease. The following funded projects will tackle ongoing challenges in screening and treatment of the disease, planning of health care resources, and management of long-term care homes.
Ontario's Response to COVID-19: Balancing Trade-offs and Improving Outcomes for all Ontarians
Dr. Beate Sander, Scientist at Toronto General Hospital Research Institute
Dr. Sander's team has developed the COvid19 Resource Estimator (CORE) model to support capacity planning and public health interventions. The model will be expanded to forecast COVID-19 case numbers and examine their effect on the acute care system and health outcomes for Ontarians. By examining a range of reopening scenarios, this research will help the province to plan mitigation strategies that balance health care system capacity, population health and broader societal outcomes, such as economic impact.
Development and Validation of Flexible Medium Throughput Solutions for COVID-19 Diagnostics
Dr. Myron Cybulsky, Senior Scientist at Toronto General Hospital Research Institute
As workplaces reopen, extensive screening of COVID-19 will be vital to identify asymptomatic and presymptomatic individuals. Dr. Cybulsky's team will evaluate various methods of diagnosing COVID-19 that are adaptable to nasal swab, saliva and saline gargle testing. They will then develop tests based on rigorous clinical standards. The development of different diagnostic tests will help the province to manage outbreaks and shortages in test reagents while providing rapid and cost-effective testing strategies.
Interferon Lambda for Immediate Antiviral Therapy at Diagnosis (ILIAD): A Phase II Randomized, Open-label, Multicentre Trial to Evaluate the Effect of Peginterferon Lambda for the Treatment of COVID-19
Dr. Jordan Feld, Senior Scientist at Toronto General Hospital Research Institute
Dr. Feld will evaluate the drug peginterferon-lambda in ambulatory and hospitalized patients with mild to moderate cases of COVID-19. Peginterferon-lambda has been extensively studied and has been used to treat other viral diseases, such as hepatitis B and C. The trial will determine whether the drug improves the ability of individuals to clear the SARS-CoV-2 virus.
Toolkit to Prevent COVID-19 Transmission among Persons with Dementia in Long-Term Care
Dr. Andrea Iaboni, Senior Scientist at KITE Research Institute
Dr. Iaboni's team will develop, implement and evaluate a Dementia Isolation Toolkit for long-term care homes. A series of methods and approaches will be designed to support the compassionate, safe and effective isolation of individuals with dementia without compromising their dignity and personhood. The toolkit will help improve the implementation of infection control protocols in long-term care homes, reduce community spread of the virus and protect health care workers. The team will support the implementation of the toolkit through ongoing evaluation and consultation.
The Antithrombotic Therapy to Ameliorate Complications of COVID-19 (ATTACC) Trial: A Multinational Randomized, Adaptive, Controlled Clinical Trial – Support for Personnel at the International Clinical Coordinating Centre in Ontario
Dr. Patrick Lawler, Scientist at Toronto General Hospital Research Institute
Dr. Ewan Goligher, Scientist at Toronto General Hospital Research Institute
In partnership with Dr. Ryan Zarychanski (University of Manitoba) and researchers from Canada, the United States, Brazil and Mexico, Drs. Lawler and Goligher will test a blood thinner called heparin for its effectiveness in treating severe COVID-19 infection. Heparin may also have anti-viral and anti-inflammatory effects, and has the potential to reduce mortality and the need for mechanical ventilation in hospitalized patients.