Home page Description:
Learn about the latest news and research advancements from the Krembil Research Institute.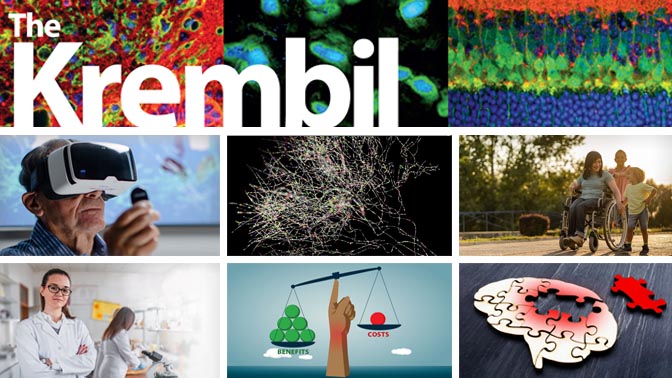 Welcome to the latest issue of The Krembil.
The Krembil is the official newsletter of the Krembil Research Institute (formerly the Toronto Western Research Institute). Research at Krembil is focused on finding innovative treatments and cures for chronic debilitating disorders, including arthritis and diseases of the brain and eyes.
Stories in this month's issue include:
● Inspiring the Future of Stem: Krembil to host livestream for the International Day of Women and Girls in Science at 10am on February 11, 2021.
● Envisioning a Brighter Future: Read the recently launched Vision Magazine, which provides a look into the Donald K. Johnson Eye Institute.
● A Window to Spinal Cord Recovery: Researchers identify the critical window for surgical decompression after spinal cord injury.
● Visionary Computational Model: Study describes new molecular model of the brain connections involved in visual processing.
● Tackling Brain Inflammation: A common diuretic could serve as a starting point for the development of new therapies for Alzheimer disease.
● Getting the Upper Hand: Study reveals which surgical option is the most cost-effective for wrist osteoarthritis.
Read these stories here. To read previous issues, see the newsletter archive.