Home page Description:
UHN researchers are leading four of five large-scale Ontario-funded projects.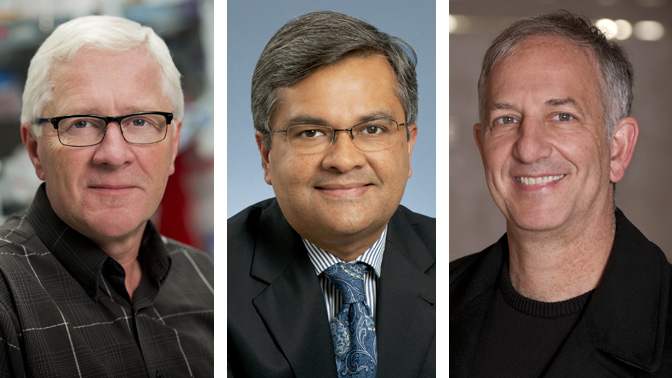 Announced on Jun 9, 2017
Scientists and clinician scientists at Princess Margaret Cancer Centre will lead four of five large-scale research initiatives launched recently by The Ontario Institute for Cancer Research (OICR).
Ontario Minister of Research, Innovation and Science, Reza Moridi announced a $24-million investment over two years for the OICR's Translational Research Initiatives (TRIs). The TRIs will bring together world-leading scientists to tackle some of the most difficult to treat cancers and test innovative solutions to some of the most serious challenges in cancer.
"This kind of support for collaboration and translational research helps ensure that we can continue to bring cutting-edge science to the clinic to improve care for patients," said Dr. Peter Pisters, UHN President & CEO.  
Six clinician scientists at the Princess Margaret will lead the following TRIs:
"Leading four of the five research initiatives is a testament to the extraordinary talent of our researchers and clinicians who are continuing to expand our understanding of cancer, and through collaboration, developing and evaluating new approaches to therapy," says Dr. Brad Wouters, UHN's Executive Vice-President, Science & Research.
To learn more about the initiatives, read the full news release.