Home page Description:
Princess Margaret's Dr. Jewett, Dr. Diamandis and Dr. Leong win prestigious research awards.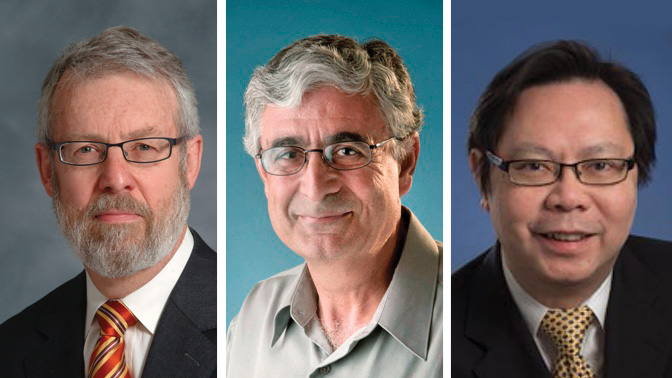 Announced on Dec 4, 2017
PM researchers have spent the past few months receiving prestigious awards. The following researchers add to the institute's ever-growing list of recognitions for world-class cancer research and innovation.
Dr. Eleftherios Diamandis (PM Clinical Researcher and TGHRI Clinical Researcher) was presented with the 2017 Lifetime Achievement Award from the Ontario Society of Clinical Chemists. The award recognizes "an individual who has devoted their professional life to providing exemplary service and improving the field of Clinical Biochemistry". An internationally renowned leader in clinical biochemistry, Dr. Diamandis has made many significant contributions to clinical research throughout his career, such as the development of predictive tests for cancer.
The Canadian Cancer Research Alliance presented Dr. Michael Jewett (PM Clinical Researcher and Techna Affiliated Faculty) with the 2017 award for Exceptional Leadership in Patient Involvement in Cancer Research. Dr. Jewett was recognized for his "long-standing commitment to and advocacy for greater patient involvement in clinical research prioritization, research proposals, funding decisions, research design, and patient-relevant outcome measures." His efforts have given patients a voice in helping to shape priorities for cancer research and care.
Dr. Wey-Liang Leong (PM Clinical Researcher) received a grant to develop a biodegradable scaffold that helps tissues regenerate following surgery for breast cancer. Called ReFilx, the technology aims to improve patients' quality of life and reduce the need for further surgeries. The funds were awarded by the Canadian Medical Association company, Joule, and Dr. Leong's project received $25,000 as part of the Early Stage Initiatives program.