Home page Description:
Drs. Michael Sefton and Geoff Fernie are recognized for enriching the lives of Canadians.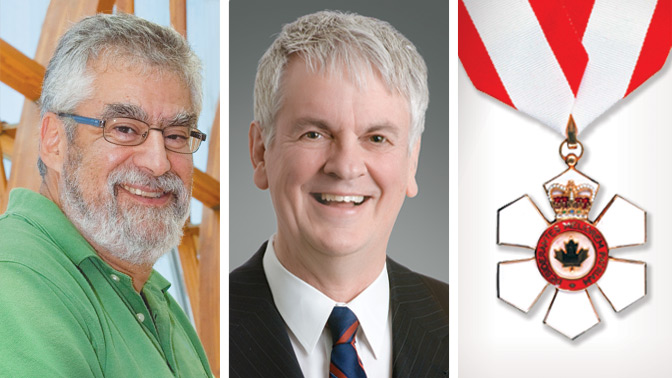 Announced on Jan 5, 2018
UHN's Dr. Geoff Fernie and Dr. Michael Sefton have received the Order of Canada—one of the nation's highest civilian honours. The researchers were among the 125 new recipients of the prestigious award, which were announced by the Governor General of Canada, Her Excellency the Right Honourable Julie Payette.
As Director and a Senior Scientist at TRI, Dr. Fernie's research focuses on the development of new rehabilitation technologies that prevent injury and help individuals continue to live in their own homes as they age. His appointment as Member of the Order of Canada acknowledges "his advancements in the field of rehabilitation engineering, notably in the development of therapies and products designed to assist individuals with limited mobility." Some of these products include innovative wheelchairs, lifting devices and bathroom aids that empower people's independence.
TGHRI Affiliate Scientist Dr. Sefton was appointed an Officer of the Order of Canada for "his seminal contributions to the field of biomedical engineering and for his mentorship of the next generation of engineers." Regarded as a pioneer in tissue engineering, Dr. Sefton was among the first in the world to develop new methods to grow artificial organs and tissues. He has now begun to focus on developing strategies to promote the growth of blood vessels within these engineered tissues.
The researchers will be invited to accept their insignias at a ceremony later this year.
The Order of Canada was created in 1967 to recognize outstanding achievement, dedication to the community and service to the nation. Since then, approximately 7,000 people from all sectors of society have been appointed to the Order.
The full list of the 125 new appointments can be viewed here.