Home page Description:
Postdoctoral fellow and computer science engineer at Krembil Research Institute.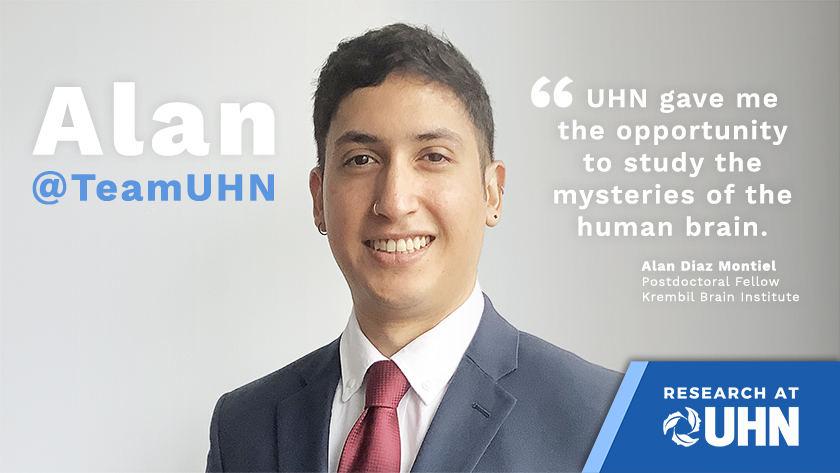 Tell us about your role at UHN.
I'm a Mitacs Postdoctoral Fellow at the Clinical and Computational Neuroscience Division at the Krembil Research Institute, the brain research arm of the Toronto Western Hospital. I'm currently investigating the knowledge translation of novel representation and machine learning algorithms to process electrophysiological recordings (i.e., EEG, iEEG) to represent cross-regional brain activity as graphs. The ultimate goal is to identify circuit-based biomarkers involved in Major Depression Disorder and/or Epilepsy.
What are you passionate about in your role at UHN? What does health research mean to you?
I'm a Computer Science Engineer by training. I obtained my bachelor's degree from CETYS University (Mexicali, Mexico). During my bachelor studies I was fortunate to study for a year at San Diego State University (SDSU, CA, USA), where I became involved in research projects focused on breast cancer imaging classification and the internet of things (IoT) for health care applications. I published a book chapter on the latter topic.
I then pursued a doctoral degree in Computer Science, at Trinity College Dublin (Ireland), where I investigated the future of optical networking and communication. During this time, I co-lead the development of Mininet-Optical, the first packet-optical network emulation and simulation software system for benchmarking software-defined optical network technologies. This tool is intended to be released as an open-source resource, with the aim of providing students, researchers, professors and engineers a platform to test control systems operating on optical networks. Also during this time, I gained machine-learning experience through projects that aimed to predict the quality of optical signals as they traverse a network—a process that is crucial for moving data from one point to another. My research and findings were disseminated through multiple presentations at prestigious international conferences in the field (ONDM-Ireland,Greece, ICC-China, OFC-USA), public demonstrations, workshops and scientific publications.
The pursuit of a doctorate degree was crucial to my development as a researcher. I gained experience in working in multi-form, multi-cultural, international teams, where I played a variety of roles. I also gained experience in critical thinking, scientific reading and writing, and strengthened my skills in public speaking. I am a firm believer that science benefits when collaboration cuts across multiple disciplines and fields. With this in mind, after training in the area of telecommunications, I decided to embark on translating my skills to the health care sector, and to investigate the most mysterious system to date: the human brain. And UHN gave me the opportunity to do this.
Joining UHN allowed me to train at a different level (now as a postdoctorate fellow), in a different country and environment (from Ireland to Canada), and in a different field. Through this experience, I have gained new insight into the scientific process and culture in Canada. What I love about my job at UHN is that the work that we do advances our knowledge about the brain—on a very foundational level—a level that will ultimately open the door to new strategies, treatments and technologies to improve the health and wellbeing of those living with neurological diseases.
How does your work help to advance UHN's vision of a healthier world?               
Medical research is key to unlocking a healthier world. There are three ways in which I believe I have contributed to this.
First, I have had the opportunity to mentor others through co-supervising bachelor students completing a co-op placement. Mentorship is one of the most rewarding things that we do at UHN.  
Second, have helped to promote multi-disciplinary collaborations by developing knowledge translation tools that enable crosstalk between computer scientists into neuroscientists. I believe that multi-disciplinary collaboration is vital to translating research into tangible health solutions. 
Lastly, as an early-career researcher, I have had the chance to help guide our research projects, which has helped me to reflect on how we conduct science. Science is driven by people. Because of this, I am a strong proponent of acknowledging and celebrating the 'human' side of science. For us to achieve our goals, I believe that human values must always be at the core of our research activities.           
What makes UHN an ideal place to advance health research?   
UHN is full of intelligent and motivated individuals who share the same goals: to improve our knowledge of the health sciences, to improve the health care system, and to maintain high professional practice standards. Also, given the nature of UHN—Canada's largest research hospital—it promotes and enables important multidisciplinary research. As such, at UHN, teams could consist of medical doctors, engineers, mathematicians, psychologists, therapists, artists, and many other professionals, who work together to tackle important scientific questions and to explore strategies to improve health.
Tell us an interesting fact people don't know about you. Do you have any hobbies or interests outside of work?               
Outside of work I enjoy spending time with my family and friends. I do creative writing (short stories, essays, poetry) and I'm hoping to get some of it published in the coming years. I'm also interested in music and exploring creating some of my own.            
What do you see for the future of health research, and what gets you excited about it?
When I was in elementary school, my generation was told that the future was going to be about data. What they couldn't tell us then was that data analysis (ie, making sense of the data) would be so expansive and such a key area of focus. Today, technological progress is being made at great speeds. I think that the same is starting to happen in the health sciences, but at a slower pace—and this slower pace is necessary because there's very little room for error (as there should be). However, I think in the years to come, advances made through artificial intelligence, robotics, telecommunications and big data will impact health research in way that we cannot currently imagine. While the dynamic changes happening in the field make it impossible to predict how the future of health care will look, I'm excited that I can be part of it.
Connect with Alan on LinkedIn or Twitter.
How to Participate in You @TeamUHN
You @TeamUHN is a campaign to highlight the important scientific contributions that research lab staff, trainees and learners, administrative staff, core facilities staff, Research Solutions & Services staff, and volunteers make towards A Healthier World through discovery and innovation. If you're interested in sharing your story, we invite you to complete this form here (UHN Office365 account is required; open to UHN staff, trainees and volunteers).