Home page Description:
Drs. Lillian Siu and Gordon Keller honoured with national and international distinctions.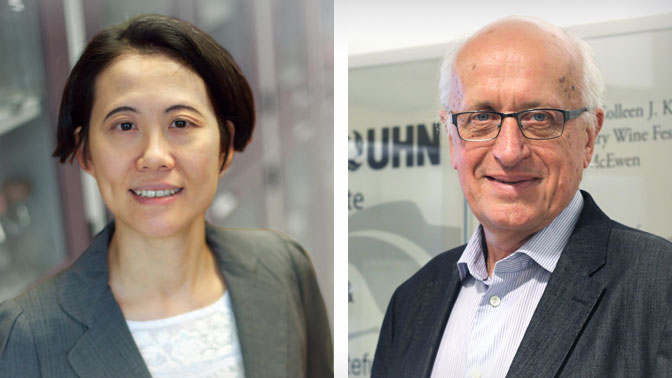 Congratulations to Dr. Lillian Siu for receiving the International Women Who Conquer Cancer (WWCC) Mentorship Award, and to Dr. Gordon Keller for being named a Bloom Burton Award finalist.
The International WWCC Mentorship Award was bestowed to Dr. Lillian Siu, Clinician Scientist at Princess Margaret Cancer Centre, by the American Society of Clinical Oncology (ASCO). The honour recognizes Dr. Siu's long-term commitment to support, encourage and guide the next generation of oncologists. Her research program is centered on the area of anticancer drug development, with a focus on head and neck malignancies. At UHN's Princess Margaret Cancer Centre, Dr. Siu leads a number of genomics and immunotherapy initiatives, including serving as the Director of the Phase I Program and Co-Director of the Bras and Family Drug Development Program.
Dr. Gordon Keller, Director of the McEwen Stem Cell Institute, is one of three finalists for the 2020 Bloom Burton Award. The award "honours an individual who made the greatest contribution to Canada's innovative healthcare industry in the previous year." Dr. Keller is the scientific co-founder of BlueRock Therapeutics, which develops engineered cell therapies for diseases such as Parkinson disease and heart failure. The nomination recognizes recent developments, including the acquisition of BlueRock Therapeutics by Bayer AG and the establishment of a new commercial laboratory space in Toronto to expand the company's cell manufacturing capacity.