Home page Description:
Showcasing IMPACT at its finest.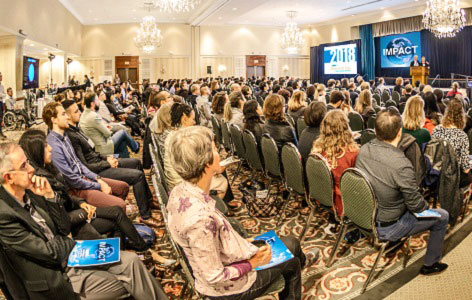 By: Tyler Saumur, ORT Times Science Writer and UHN Trainee
The theme of this year's Toronto Rehabilitation Institute (TRI) Research Day was impact, a theme which wasted no time unveiling itself. The day marked a historic change in leadership as Dr. Geoff Fernie, a recent Order of Canada recipient, passed the reigns over to Dr. Milos Popovic, the new director of TRI. Dr. Fernie rang in the Research Day summarizing some of TRI's biggest research accomplishments of the year, ranging from revolutionizing the winter footwear industry to creating new methods for diagnosing and preventing sleep apnea. The former director of TRI also had some kind words when introducing his successor, "Milos believes in the future of TRI. He's a decisive leader. A kind man, and a man with a vision that will challenge all of us."
The morning progressed with a keynote talk delivered by John Wright, CEO of Dart Insight and Communication, a company specializing in opinion and market research. His discussion revolved around the 'silver tsunami'—a shift in the population demographics as older individuals reach retirement—and the impending wave of demand that will soon be upon the job market. It was an enlightening talk that provided encouragement to an audience largely composed of health care researchers. The talk demonstrated how those at TRI are revolutionizing how we think about health care and providing the impact needed to adapt to these changing demographics and the effects they will have on health care infrastructure.
The remainder of the day was focused on trainees. Leading off the trainee experience was the Minute Madness event, in which presenters had one minute to woo the crowd with their research. Presentations were grouped into three themes: preventing injury and illness, restoring function and enabling independence. They ranged from a rendition of the song "Part of Your World" from the movie "The Little Mermaid" to a four-minute skit involving four trainees doing some extravagant robotic work. The afternoon consisted of poster sessions and interactive displays which enabled attendees to become immersed in the technological innovation truly unique to TRI.
Throughout the day, the best and brightest of TRI trainees were honoured. The Geoff Fernie Impact Awards, given to those demonstrating exceptional impact within the TRI community, were presented to Bastien Moineau, Kramay Patel, and Sin-Tung Lau. Alex Terpstra and Shehroz Khan received the Best Publication Awards. The Joel Verwegen Award for outstanding undergraduate work in the field of neuroscience was presented to Alana Changoor. Lastly, TD Graduate Scholarships—given to trainees with incomparable research skills to level the playing field for individuals with disabilities—were awarded to Jirapat Likitlersuang, Stefania Moro and John Shepherd. To view a complete list of award winners and learn more about the event, please visit www.researchday.ca