Home page Description:
Legacy of the founding father of allogenic bone marrow transplants lives on at UHN.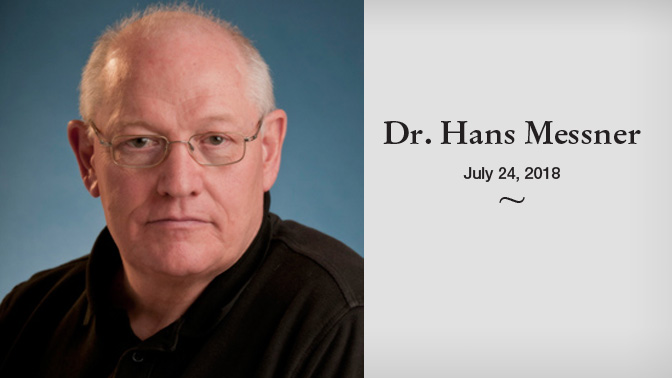 On July 24, 2018, renowned physician, colleague and Princess Margaret Clinical Researcher Dr. Hans Messner passed away.
His nearly 50 years at UHN have changed health care in Canada and around the world. As the founder and Director of UHN's Bone Marrow Transplant Program from 1975 to 2006, his pioneering work transformed experimental treatments into live-saving therapies that have extended the lives of thousands blood cancer patients.
His early research, carried out under the mentorship of Dr. Ernest McCulloch, focused on the stem cells that give rise to all other blood cells—work that led to completion of his first allogenic bone marrow transplant in 1976 on a patient with chronic myeloid leukemia. Since then, the Bone Marrow Transplant Program has had immense clinical impact, having performed thousands of allogenic transplants.
Throughout his career, his dedication and contributions continued to inspire others. These accomplishments included development of the first human assay for pluripotent cell function; his role in developing Canadian clinical standards for cell transplantation; and his leadership as medical director of the Philip S. Orsino Cell Therapy facility, which was established at Princess Margaret in 2004. He also worked behind the scenes as part of the Minister's working group for the creation of new inpatient and outpatient units at Princess Margaret to reduce wait times and increase patient access to stem cell transplants.
These achievements have been honoured through various distinctions, including: the American Society for Blood and Marrow Transplantation Lifetime Achievement Award; the Canadian Blood Services Lifetime Achievement Award; and the Order of Ontario. Also, earlier this month, the Allogeneic Transplant Program at Princess Margaret Cancer Centre was renamed the Messner Allogeneic Transplant Program to honour his role as the founding father of allogeneic transplantation at the Centre. 
His endless energy, compassion for his patients and leadership will continue to be an inspiration to us all.
To read more about his life and career, visit UHN.ca.