Home page Description:
Monthly newsletter released by Office of Research Trainees (ORT) features UHN trainee life.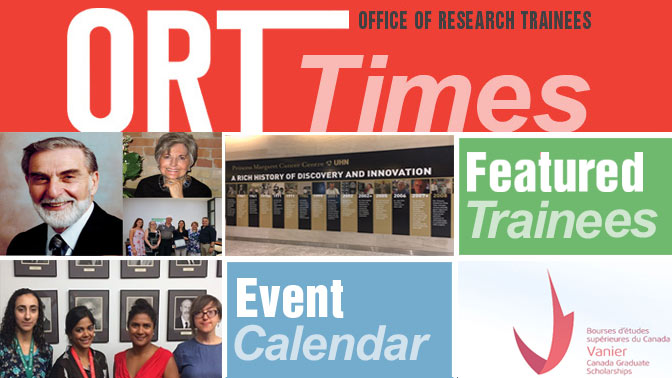 Announced on Sep 26, 2018
The UHN Office of Research Trainees (ORT) is proud to announce the release of the latest issue of The ORT Times!
The ORT Times is UHN's monthly trainee-focused newsletter. It highlights news and editorials about trainee life, articles to help developing researchers get the most out of their training experience at UHN, tips on career development, and research training opportunities within and outside of UHN.
Feature Stories:
● Welcome to UHN
● UHN's 2018 Vanier Scholars
● 2018 Postdoc Appreciation Week
● MBP Summer Student Poster Day
● ORT Travel Awards
● OSOTF Graduate Fellowship
Conference Reports: Read conference reports from Gah-Jone, Muammar, Lisa and Arvind.
Read and download the full issue now!
To see past issues of The ORT Times, please visit ORT's website here.