Home page Description:
UHN named top Canadian research commercialization institution for second year running.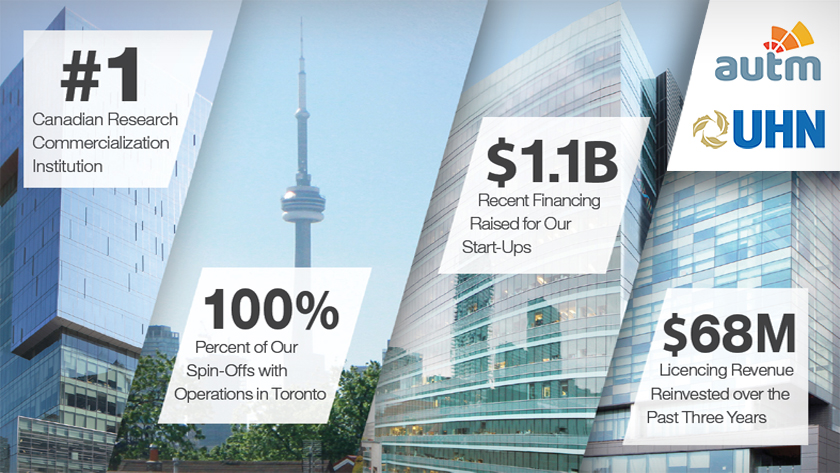 According to the latest Association of University Technology Managers (AUTM) North American Annual Licensing Survey, UHN is the top research commercialization institution in Canada based on gross licensing revenue.
The 2019/2020 AUTM annual survey, which was recently released, provides an in-depth review of technology licensing and related activity for North American academic and non-profit research institutions. With CAD $37.1 million in gross licensing revenues, UHN leads the sector in Canada, and ranks eight among the top ten research commercialization hospitals in North America. UHN's licensing revenues are fully reinvested into its four hospitals and seven research institutes to fuel and sustain innovation and discovery.
The majority of UHN's reported licensing revenue over the reporting period was contributed by Treadwell Therapeutics, a UHN start-up company that is developing a best-in-class cancer immunotherapy; and AvroBio, a UHN biotechnology company that is combating rare diseases and conducting gene therapy trials to help patients with Fabry disease.
Many of the healthcare innovations and discoveries derived from research at UHN are improving the lives of patients. Initial discoveries are "commercialized" when they are transformed into medical devices and products, or improvements in care and disease diagnosis. The basic research initiatives and translational expertise of UHN's scientists and clinical investigators continue to generate a large and growing portfolio of opportunities for corporate partnerships and alliances. These initiatives are made possible thanks to the generous support of UHN's foundations (the UHN Foundation and The Princess Margaret Cancer Foundation), and government and industry partners.
When research and innovation meet business in the process of commercialization, it's not only patients who benefit. Although maximizing patient impact is always the primary goal, the contribution to our economy is immense. Within the last five years alone, 14 life science companies created at UHN have attracted more than $1.1B in financial investments to the local economy. The operations of UHN companies, such as Adela, Treadwell Therapeutics and BlueRock Therapeutics, also have significant footprints in Toronto and create local biotech jobs.
"Research hospitals are today's biotechnology engines, and it's important that we make Canadians aware of this important role in researching and developing the very best treatments and in fuelling our future economy and employment market," says Dr. Kevin Smith, President and CEO, University Health Network.