Home page Description:
Community says farewell to world-renowned arthritis researcher Dr. Aileen Davis.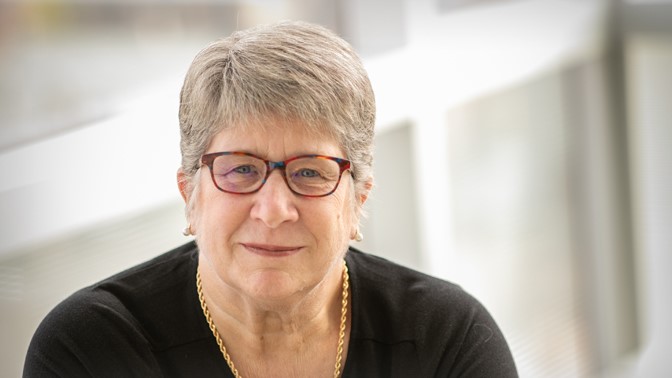 After a remarkable career in research and patient care, Dr. Aileen Davis is retiring from her position as a Senior Scientist and Division Head at the Krembil Research Institute, effective June 30, 2020. Dr. Davis has been leading a prolific and impactful research program for more than 23 years, 15 of which were spent at Krembil and its predecessor, the Toronto Western Research Institute.
Dr. Davis is trained as a physiotherapist and clinical epidemiologist, giving her the expertise and experience needed to lead a research program that helped to improve the function in and quality of life of people living with musculoskeletal diseases, such as osteoarthritis and, earlier in her career, bone and soft tissue cancers. She designed and evaluated new models for delivering care to patients, and she developed several tools to measure patient outcomes in clinical care. Over the course of her career, Dr. Davis published more than 257 peer-reviewed scientific articles.
One of Dr. Davis's most notable research achievements is helping to bring the GLA:D program to Canada. GLA:D is an evidence-based program developed in Denmark for the treatment and management of osteoarthritic symptoms. In partnership with Bone and Joint Canada, a national knowledge translation network, Dr. Davis led the evaluation of the program at 154 sites in seven provinces. As of December 2018, more than 1,600 Canadians had participated in the program and Dr. Davis's research study. Her findings revealed that deploying GLA:D in Canada helped to significantly reduce pain and improve function in Canadians living with hip and knee osteoarthritis. GLA:D is now being offered as routine evidence-based care to individuals with hip and knee osteoarthritis across the country.
Dr. Davis's greatest satisfaction is the success of her numerous trainees. Over the span of her career she was a primary supervisor and mentor to 25 graduate students and postdoctoral fellows. Many of her former trainees have become tenured faculty and productive researchers, as well as practicing physiotherapists and orthopedic surgeons.
In addition to her research and training activities, she has been (and continues to be) a highly active member of the scientific community. Presently, she is a board member of the Osteoarthritis Research Society International (OARSI), an Associate Editor for the academic journal Osteoarthritis and Cartilage and a member of the Editorial Board of Arthritis Care & Research.
Dr. Davis is a Professor at the University of Toronto, in the Departments of Surgery; Physical Therapy; Rehabilitation Science Institute; Institute of Health Policy, Management and Evaluation at the Dalla Lana School of Public Health; and Institute of Medical Science.
The entire Krembil community would like to congratulate Dr. Davis on her research achievements, exceptional mentoring and contributions to improving care, as well as her valuable contributions to our community and institute."
Best wishes on your next adventure Dr. Davis.