Home page Description:
Internationally renowned scientist Dr. Tak Mak receives prestigious award for cancer research.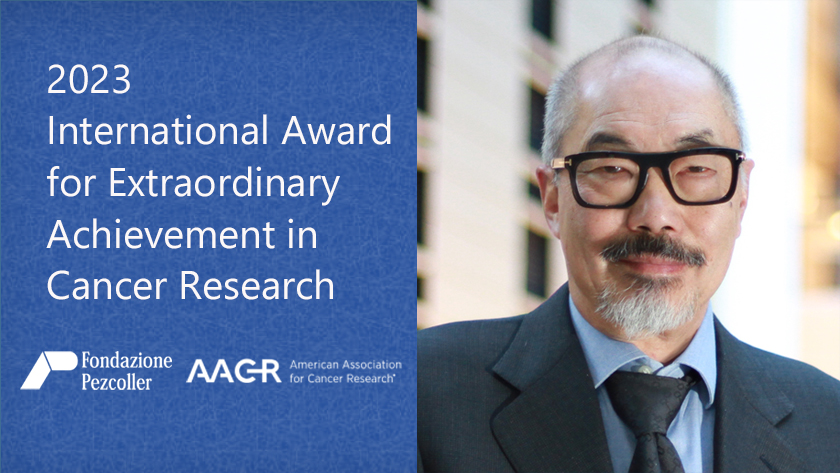 Congratulations to Dr. Tak Mak for receiving the 2023 International Award for Extraordinary Achievement in Cancer Research from the Pezcoller Foundation and the American Association for Cancer Research (AACR).
The award was established in 1997 to recognize researchers who have made significant breakthroughs in basic or translational cancer research. Dr. Mak joins other recipients of this prestigious award, who include Dr. Hans Clevers, who developed organoids that are used extensively in medical research, and Dr. Tony Hunter, who discovered protein tyrosine phosphorylation—a fundamental way through which cells send signals internally and change their behaviour.
Dr. Mak is a Senior Scientist at the Princess Margaret Cancer Centre, where he has established himself as a leading expert in cancer immunology and biology. One of his most significant contributions was the cloning of human T cell receptor genes. This work enabled researchers to better understand the biology of T cells, ultimately paving the way for existing immunotherapies, including CAR-T therapy and TCR-T therapy. His work has also shed light on CTLA-4—a molecule found to prevent T cells from killing cancer cells. This work laid the foundation for CLTA-4 becoming the first immune checkpoint regulator to be targeted in the clinic. His lab is currently working on designing T cell receptors that can recognize specific molecules on cancer cells and help to target them for destruction.
As one of the world's eminent cancer researchers, Dr. Mak has served as author on over 1000 peer-reviewed articles and co-founded biotechnology companies, while improving the lives of individuals living with cancer. He is a Fellow of the AACR Academy, has received honorary degrees from many universities around the world and has received various international prestigious awards and honors, such as the Albert Szent-Györgyi Prize for Progress in Cancer Research, the Paul Ehrlich Prize and the Ludwig Darmstaedter Prize.
The award will be presented to Dr. Mak at the 2023 AACR Annual Meeting in mid-April in Orlando, Florida. Dr. Mak will also be recognized at a special award ceremony organized by the Pezcoller Foundation in Trento, Italy in May.
Read the press release here.