Home page Description:
Government of Canada announces support for hospital-based research during COVID-19.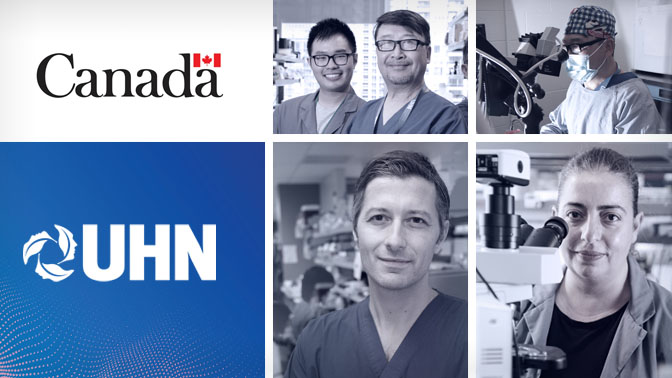 At a press release held this morning, the Government of Canada announced a support package for Canadian hospital-based research sector affected by the COVID-19 pandemic. Prime Minister Justin Trudeau committed to supporting the non-COVID-19 based research enterprise in Canada, which has been facing a critical financial situation since the suspension of these research activities during the pandemic. These new funds will mitigate large scale job actions in Canada and help to ensure that as medical research organizations begin to restart research, they will be in a strong position to do so.
UHN is extremely grateful to the federal government for this support and for recognizing the importance of medical research that is performed here and across Canada.
UHN has been playing a leading role in raising awareness of the current financial stress and the lack of access to emergency funds with the federal government. Along with partner institutions within the Toronto Academic Health Science Network (TAHSN), the Council of Academic Hospitals of Ontario (CAHO), the Ontario Hospital Association (OHA), Research Canada and HealthCareCAN, a proposal was submitted in mid-April. This was followed by an intense advocacy campaign involving many groups and officials within the federal government and within the media. Last week, Dr. Brad Wouters (Executive Vice President, Science and Research, UHN), raised this issue as a witness before the standing committee of Health at the House of Commons. He has also raised the issue through interviews with iPolitics, the Toronto Star, the CBC National News and with 640 local radio. Dr. Wouters has been joined by many others including Dr. Kevin Smith (President and CEO, UHN) and Michael Burns (President and CEO, The Princess Margaret Cancer Foundation) on this effort.
"We applaud the federal government for providing crucial support to sustain Canada's hospital-based biomedical researchers through this period where this critical research has been interrupted," said Dr. Wouters. "Canada's health researchers are global leaders in driving improvements in disease prevention, diagnosis, treatment and care. This support will help ensure these researchers will be able to contribute to COVID-19 research and to rapidly resume progress against the entire spectrum of diseases including cancer, Alzheimer's disease, heart disease and infectious diseases."
Hospital-based health research represents a $3 billion annual sector and employs over 50,000 highly qualified personnel. UHN is Canada's largest research hospital with an annual research budget of more than $450 million and over 5,000 employees comprising scientists, staff and trainees.
"Science is the way forward," says Dr. Wouters. "Today, the federal government has sent us a signal that they are investing in our future—not only to fight COVID-19, but also the diseases that affect human health and wellbeing."
To read the Prime Minister's announcement for support, click here.