Home page Description:
The pandemic catalyzed an innovative approach to accelerate COVID-19 research efforts.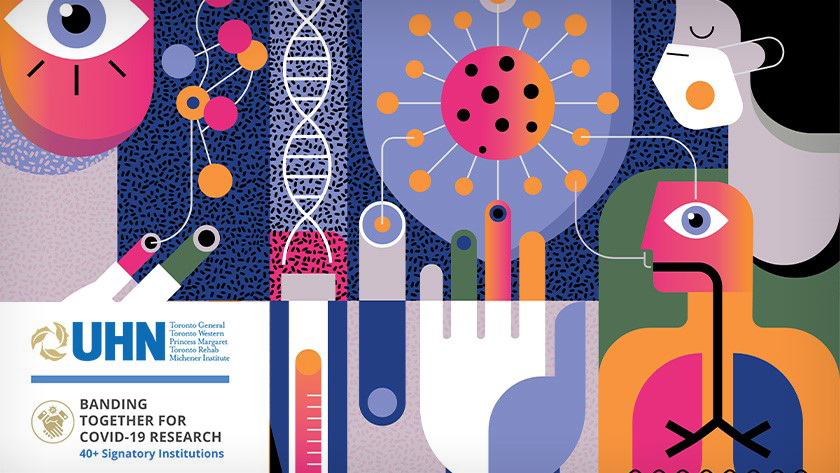 The COVID-19 pandemic has had a profound effect on research institutions. While some changes have limited research activity, others have created opportunities for collaboration. 
Thanks to an innovative UHN-led approach, research involving biospecimens—i.e., materials such as blood, tissue, or cell lines and associated data—have been streamlined among health care organizations Canada-wide.
The initiative began within just weeks of the start of the pandemic and is called the COVID-19 Master Data & Biological Sample Transfer Agreement or COVID-19 D/MTA. Led by Commercialization at UHN and the Toronto Academic Health Science Network (TAHSN), the program has grown quickly and now counts with nearly 40 signatory institutions across Canada.
A simple, flexible approach
Typically the transfer of biomaterials between organizations involves extensive documentation, legal reviews and negotiations. The COVID D/MTA process is streamlined and depends on a flexible template letter that has been adopted by all signatories. This significantly reduces the administrative burden, while enabling inter-institutional research collaboration and team science on COVID-19.
"This collaboration—whose inception was at UHN—is strengthening Canadian research and partnerships across the country," says Brad Wouters, Executive Vice President, Science and Research, University Health Network. 
"The initiative can be likened to a universal COVID-19 research pass. By helping us to rapidly enable research partnerships, it has become a vital tool for supporting life science research. During the pandemic, we were reminded that we are in this together, and the COVID-19 D/MTA, through fostering inter-institutional collaboration, has strengthened our ability to work together and bring benefits to patients."
Participating organizations include most major Canadian universities and hospitals and research centres, public health agencies from across the country, including several members of the British Columbia Provincial Health Services Authority, the New Brunswick Regional Health Authority and the Ontario Agency for Health and Promotion.
The network is still growing and the initiative is open for others to join. To see a list of current signatories, click here.