Home page Description:
The UHN spinout company for gene-based immune therapies trades on the NASDAQ stock exchange.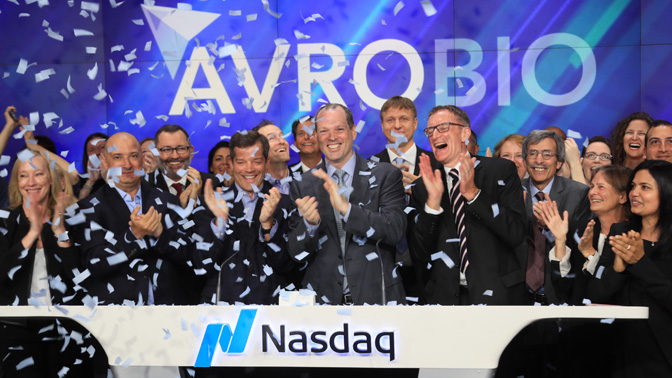 The University Health Network (UHN)'s spinout company AVROBIO recently raised more than US $100 million in an initial public offering (IPO) on the NASDAQ stock exchange. Less than one month after the announcement, the company has a market cap of greater than US $651 million.
The company, which was founded based on the work of UHN researchers Drs. Christopher Paige (Senior Scientist) and Jeffrey Medin (now at the Medical College of Wisconsin), leverages cell and gene therapy platforms for cancer and rare diseases.
Specifically, AVROBIO is a clinical stage company focused on developing potentially curative lentiviral-based gene therapies to treat rare diseases in a single dose.
"Researchers have made rapid progress in the ability to alter gene expression patterns in cells, and to use those modified cells to influence the course of disease," says Dr. Paige. "These findings are opening up new therapeutic approaches across a wide spectrum of unmet health needs."
"The founding of AVROBIO and now its IPO launch are excellent examples of how investing in basic science, translational and clinical research can get these much needed innovations to patients in the shortest time possible," explains Dr. Brad Wouters, Executive Vice President, Science and Research at UHN.
AVROBIO's IPO was well received by the investment community with significant participation by high quality institutional investors. The IPO follows several previous rounds of financing—resulting in over US $90 million invested, including a US $60 million Series B raise.
"AVROBIO's success demonstrates the strength of Toronto's research ecosystem and our ability to discover, develop and present commercially interesting research that attracts top investors and management teams," says Dr. John Reid, Director of UHN's Technology Development and Commercialization (TDC) Office. Adds Mark Taylor from TDC, who worked closely with the company throughout the process, "We're proud to have helped advance AVROBIO from startup incubation to IPO in approximately three years—a remarkable commercial feat."
AVROBIO is trading under the NASDAQ ticker symbol "AVRO".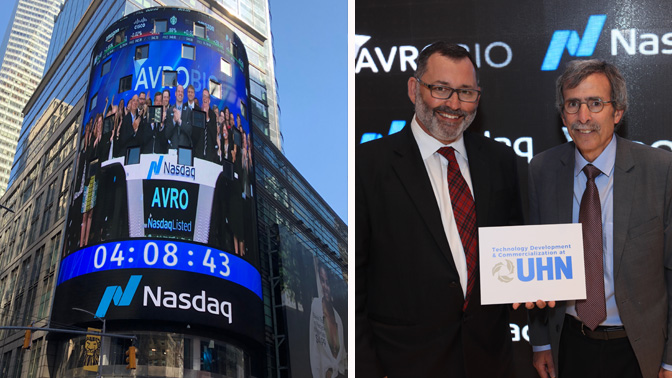 Left panel: The closing bell ceremony was broadcast on NASDAQ's video tower, which overlooks Times Square in New York City. Right panel: The event was attended by Mark Taylor (left, UHN's Technology Development and Commercialization Office) and Dr. Christopher Paige (right, UHN Senior Scientist).