Home page Description:
Drs. Christopher Paige and Eleanor Fish recognized for championing health research advocacy.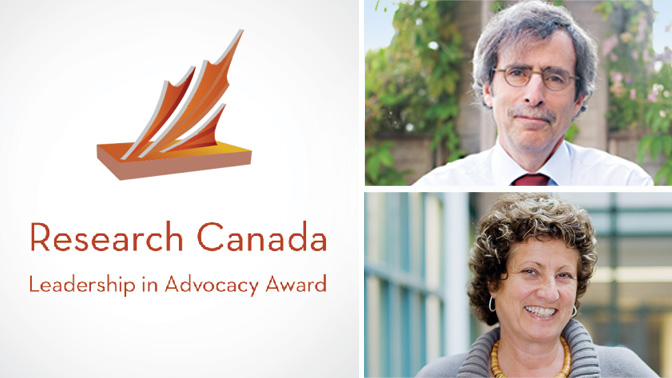 Announced on Dec 1, 2017
Drs.
Christopher Paige
and
Eleanor Fish
were recently presented with the 2017
Research Canada Leadership in Advocacy Award
for their leadership in championing health research and health innovation in Canada.
Dr. Paige is a Senior Scientist at PM Cancer Centre and the former Executive Vice President of Science and Research at UHN. He received the award in recognition of his efforts to "build productive partnerships and promote health research and health innovation policies through a number of organizations and institutions with which he has been affiliated, and in some cases, created."
Dr. Fish is the Director of the Arthritis & Autoimmunity Research Centre and a Senior Scientist at TGHRI. She was presented with the award for her public outreach activities, which are "helping Canadians understand the benefits of Canadian health research to their everyday lives."
Deborah Gordon-El-Bihbety, President and CEO of Research Canada said of the recipients "There is a great deal of competition for public attention and support, and it is the work of Drs. Paige and Fish and our advocacy champions that keeps health research and health innovation high priorities for all governments and for the public." 
Congratulations to Drs. Fish and Paige!