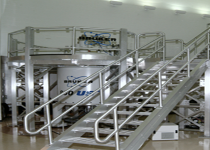 Our facility is equipped with State-of-the-Art spectrometers and allows characterization of biomolecular structures, protein interactions, protein dynamic and structure-function relationships of biological proteins, as well as metabolites and high-throughput fragment-based drug screening. 
The NMR manager, Dr. Genevieve Seabrook maintains the NMR instruments in the Core Facility, consults with users on experimental design, collects NMR data and provides training to new users.
Services:
Free consultation
Training and support provided
Full service for researchers who may not be able to perform their own experiments
Facility accessible to internal and external users.
Please contact Dr. Genevieve Seabrook for user fees.
 
Training:
Due to the high cost of NMR spectrometers, a preliminary training is mandatory.

Experiments can be run by the NMR facility manager.
Users can run their own experiments but first must obtain training and demonstrate competence.

Please contact, Dr. G. Seabrook for more information.

The use of the NMR instruments is contingent upon approval of the NMR facility manager.
For any NMR requests, please contact Dr. Geneviève Seabrook:

Dr. Geneviève Seabrook
Staff Scientist, NMR Research & Facility Manager
gseabroo@uhnresearch.ca
416-629-7391

Our NMR facility is located in the MaRS, Princess Margaret Cancer Research Tower
East Tower, 101 College Street
Toronto, Ontario, Canada
 M5G 1L7





Link to Google map