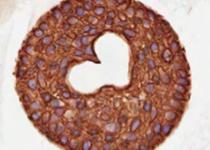 The Princess Margaret Living Biobank (PMLB) offers Patient Derived tumor Organoid (PDO) and Xenograft (PDX) models and associated turnkey services for research studies.
Scientific Director
Dr. Ming-Sound Tsao

Scientific Managers
Dr. Niki Radulovich (Core Organoid)
Dr. Nhu-An Pham (Core PDX)
 
For more information please continue to our website: Livingbiobank.ca

Supporting UHN Facilities
Animal Resources Centre
Biospecimen Sciences Program
PM Genomics Centre
Bioinformatics Core
DDP-AMPL Biomarker Lab
Advanced Optinal Microscopy Facility
Technology Development & Commercialization
A PDO is a three-dimensional structure grown from cancer cells in a gel-like compound using media containing components which support renewal. PDOs are amenable to faster expansion times in culture under the appropriate conditions and result in higher throughput compared to PDX models.
A PDX is created when tissue/cells from a patient's tumor is implanted directly into an immunodeficient mouse host. Once established as a xenograft model, the tumor specimen is extracted, divided and further expanded in multiple mice for cryobanking and experimentation. 
Scientific Manager, Core PDX

416-634-8721

Scientific Manager, Core Organoid

416-634-8721