Home page Description:
Krembil trainees are encouraged to persevere as scientists are needed now more than ever.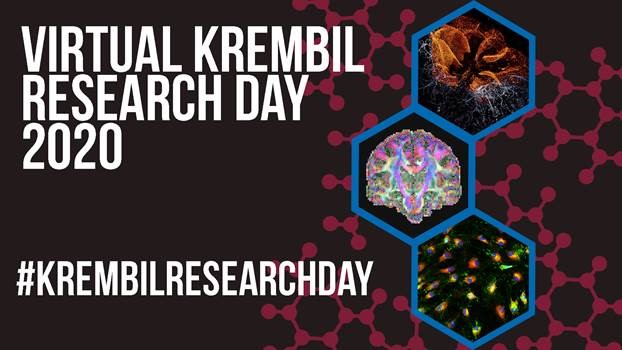 Krembil's annual Research Day was held a little differently this year. Investigators, trainees and staff pulled up a chair to celebrate the research achievements of their colleagues from the comfort of their home or office.
The event began with opening remarks from Dr. Brad Wouters, the Executive Vice President of Science and Research. "We are living through history right now and with all of you future scientists looking for answers, I know we are in good hands," Dr. Wouters stated.
Following these remarks, Krembil Director Dr. Donald Weaver delivered an inspiring message on the role of science today. "Science is a human activity that takes fear and transforms it into curiosity. And it is this curiosity that will lead to a cure."
During the rest of the event, Dr. Mary Pat McAndrews, Chair of the Trainee Affairs Committee, moderated eight informative oral presentations addressing each of Krembil's three research pillars: brain and spine, bone and joint, and eye. Poster presentations for this year were judged in advance of the live event using the platform VoiceThread.
Prior to the award presentation, attendees were also treated to a video showcasing the rich history of research and mentorship at the former Toronto Western Research Institute and Krembil. Past trainees shared their unique experiences, some of their favourite memories and the most valuable lessons they learned along their journey.
Congratulations to the award winners and all of the presenters who participated in this year's Virtual Krembil Research Day!
You can view the full event recording here.