Home page Description:
Study links brain damage in retired football players to learning disabilities.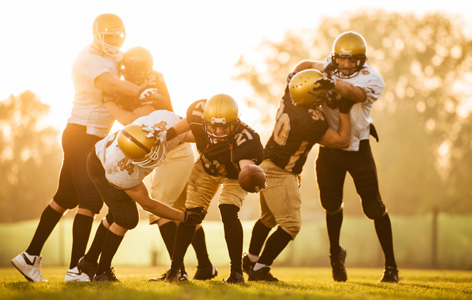 Although sports-related concussions can be debilitating, they are still widely underreported. The effects of multiple concussions over time can result in lasting brain damage, memory loss and mood disorders such as depression.
Professional football players are particularly vulnerable to the effects of multiple concussions: they receive on average about 900 to 1,500 blows to the head per season. Researchers are still unclear about how these repeated blows lead to the psychological symptoms that are seen in some retired football players.  
To shed light on this issue, Krembil Clinician Investigator Dr.
Carmela Tartaglia
led a study to evaluate the effect of repetitive concussions in retired professional football players. The study team used sophisticated and novel imaging approaches to evaluate the integrity of the fibers—known as white matter—that connect the different parts of the brain in order to gain a better understanding of how structural brain changes relate to psychological function.  
The researchers discovered that the former players, when compared to healthy subjects, had an area of the brain with decreased white matter integrity. As this area is important for visual memory, the team decided to investigate if the loss of white matter integrity had an effect on learning ability. They found reduced white matter integrity was linked to worse performance on a visual memory task.  
Explains Dr. Tartaglia, "Our study adds to the growing body of evidence linking multiple concussions to psychiatric and cognitive deficits in some athletes. The results explain some of the symptoms experienced by these athletes and suggests that brain imaging could complement existing psychological tests to identify neurological damage caused by sports-related concussion."  
This work was supported by the PSI Foundation, the Canadian Sports Concussion Project, Krembil Neuroscience Centre and the Toronto General & Western Hospital Foundation.
The association between white-matter tract abnormalities, and neuropsychiatric and cognitive symptoms in retired professional football players with multiple concussions. Multani N, Goswami R, Khodadadi M, Ebraheem A, Davis KD, Tator CH, Wennberg R,Mikulis DJ, Ezerins L, Tartaglia MC.
Journal of Neurology
. 2016 May 3.
[
Pubmed
abstract
]