Home page Description:
UHN celebrates a transformative gift to the Donald K. Johnson Eye Institute.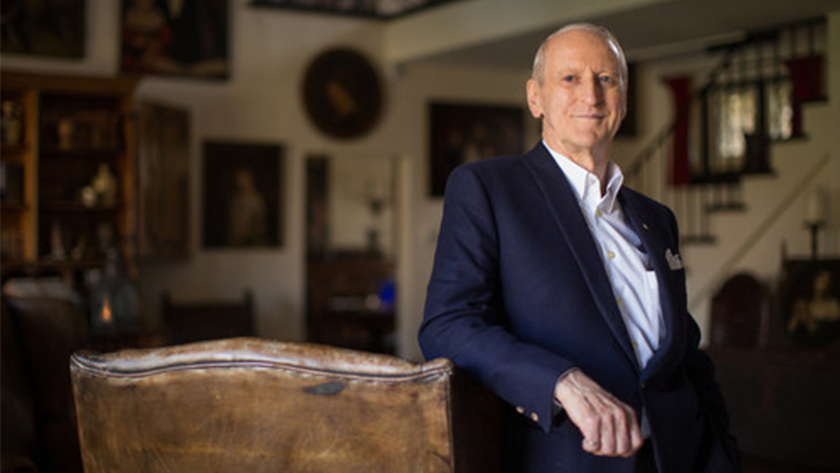 In celebration of his belated 86th birthday, legendary Bay Street investment banker and philanthropist Donald K. Johnson announced an incredibly generous $50 million donation to support and expand his namesake, the Donald K. Johnson Eye Institute.
As the largest donation to a vision program in Canada, this investment will advance vision research and patient care for the more than five million Canadians living with eye disease. With this donation, Mr. Johnson will have committed over $65 million to support the exceptional vision scientists and clinicians at UHN.
"Don's support has totally changed the vision research landscape in Canada. With his significant gift six years ago, we built our discovery research capacity and enhanced clinical research," says Dr. Valerie Wallace, Research Director of the Donald K. Johnson Eye Institute and the Donald K. Johnson Chair in Vision Research. "Now, with his new, transformative gift, the impact will be global and the legacy long-lasting."
The Donald K. Johnson Eye Institute at the Toronto Western Hospital is home to Canada's largest concentration of vision researchers and the most comprehensive clinical program dedicated to vision. Comprised of more than 54 clinicians, residents, researchers and fellows, the Institute completes more than 6,000 surgeries and 120,800 patient visits each year, spanning nine specialty clinics and services.
Through leading-edge research and clinical trials, the Institute's scientists and clinicians are developing real-world treatments to change the lives of individuals living with vision impairment and blindness.
Mr. Johnson's gift will provide long-term financial resources to expand clinical research, retain and recruit top talent in vision science and clinical care, and accelerate technological innovation. In addition, this gift will create three endowed clinical fellowships—in tribute to Drs. Robert Devenyi, Allan Slomovic and Graham Trope—clinicians who have helped restore Mr. Johnson's sight.
"We are humbled by and so grateful for Don's continued generosity and commitment to investing in the best talent, tools and training, to ensure that our hospital leads the world in vision care," comments Tennys Hanson, Chief Executive Officer of the UHN Foundation.
Congratulations and thank you to Drs. Valerie Wallace and Robert Devenyi (Clinical Director, Donald K. Johnson Eye Institute, and Ophthalmologist-in-Chief, UHN) and to the Institute's scientists, clinicians and staff for their work to change the way people see the world.
Donald K. Johnson and his late wife, Anna McCowan-Johnson, have been long-time supporters of vision research and patient care at UHN. Mr. Johnson has served on the UHN Foundation Board of Directors for 22 years.